How to Use Paddle Shifters

Paddle shifters can be a standard or available feature found in many new Mazda vehicles (like the Mazda6). They're simple to use! Simply press or push the paddle to your car in manual mode. You will see that the right paddle is marked with a "+", which is used to upshift while the left paddle that's marked with a "-" is used to downshift.
However, if you're not sure how to use paddle shifters, Auffenberg Mazda is here to help! Read on to learn more about the functions of paddle shifters and what they can do for Collinsville drivers.
How to Work Paddle Shifters
If you're still not sure how to use paddle shifters, here are a few main things to remember. Always have them in manual mode so you have complete control over your car. The left paddle shifts down and the right paddle shifts up, allowing you to maneuver throughout Fairview smoother.
If you're worried about causing damage to your vehicle when you shift gears, don't be! You won't be able to shift gears when you:
Press one paddle while the other is being held down
Downshift before reaching the upper limit of the lower gear
Upshift before the engine reaches the lower limit of the higher gear
Try to shift to third or higher while stationary
Press both paddles at the same time
Enter drive mode to switch back to the automatic transmission.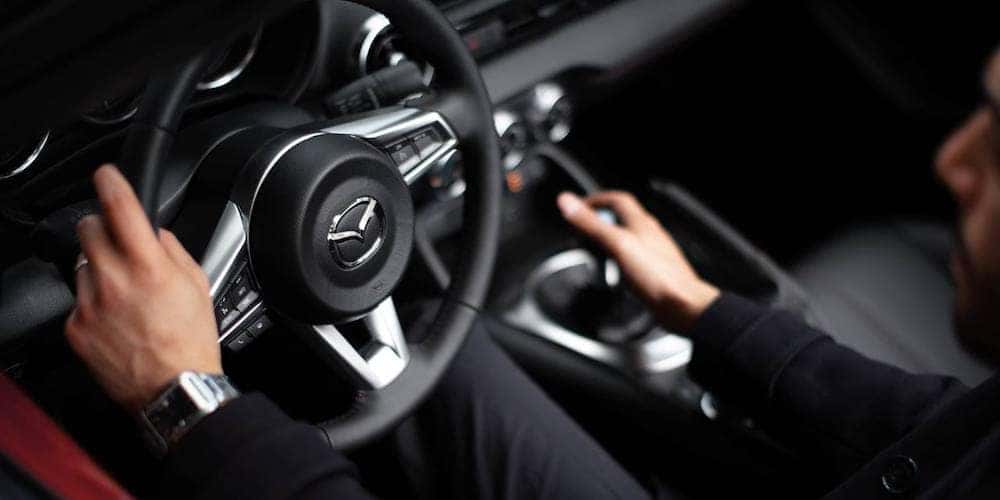 What Paddle Shifters Do
Paddle shifters are easy to use and offer improved control of your engine. Typically, paddle shifters allow drivers of sporty vehicles to shift gears more quickly, whether passing someone on the highway or taking the lead on the track. Paddle shifters can be found near the steering wheel of a sports car. One paddle will shift upwards while the other paddle shifts down a gear.
The paddle shifter works once the Edwardsville driver triggers the shifter for gear selection then sends an electronic signal to the clutch, causing the gear to shift.
What Are the Advantages of Paddle Shifters?
Using paddle shifters has many advantages and reasons why you should use the paddle shifters, such as:
Drivers can react to situations that can't be done with an automatic transmission.
Drive and shift gears as you want while seeing and anticipating what's going to come next.
Expect a sportier and smoother driving experience.
When turning while using a paddle shifter to change into a lower gear, you're ensuring more speed and torque.
While going on a downhill road, the left paddle shifter slows the car down without using your brakes, but the left paddle shifter also provides enough power to go uphill.
The upshift makes getting your car out of the snow faster, while the downshift slows your car down without using the brakes in heavy rain. Both options ensure that you're having more control of your vehicle during tough weather conditions.
While there are many perks to using the paddle shifters, they can sometimes have difficulty reading the road when the weather conditions are severe. This is why they're often preferred to be used as a backup.
Learn More About Paddle Shifters With Auffenberg Mazda
Now that you have an idea of what paddle shifters do and why you might want them on your next vehicle, let us know if we can help you find them. And don't hesitate to contact us if you have any questions about any features on your vehicle.
More From Auffenberg Mazda
If you're in the market for a capable and powerful Mazda SUV, we have you covered at Auffenberg Mazda! We're exploring the different 2022 Mazda CX-5 configurations and standard features so you can decide which SUV trim level is better suited for taking on your Fairview drives. Be sure to explore our new inventory to…

The Mazda3 may be a compact sedan, but it's well-loved for its impressive performance, advanced technologies, and premium amenities that help make your Fairview drives enjoyable, confident, and safe. Between its chic design, smooth handling, and roomy interior, it's not surprising that it's a top choice for many drivers. View Inventory Contact Us Earn…

The new Mazda CX-9 is known for offering strong specs, efficient performance, and plenty of safety features. However, you may be even more impressed with the cabin of this premium Mazda 3-row SUV. The 2021 Mazda CX-9 interior serves up a sophisticated blend of innovative technology, deluxe finishes, and comforting amenities. What's more, the…