How Often to Change Your Spark Plugs

If you're wondering how often to change spark plugs in your Mazda model, we at Auffenberg Mazda can help answer your questions. So, how often should you change your spark plugs? Typically experts say to replace them every 30,000 miles, but this varies depending on your model. Learn more about when to replace these spark plugs with us at Auffenberg Mazda and get back on Fairview and Collinsville roads with the help of our service department.
When Do I Change Spark Plugs?
To know the best intervals to change them, you should consult your owner's manual. This will give you a more accurate answer. Why is it important to change spark plugs? Your spark plugs are one of your ignition components that work by moving the high voltage current from the ignition coil to ignite the combustion chamber as soon as you start your vehicle. If the spark plugs aren't functioning properly your vehicle could start having issues, including:
Slow or no start
Engine misfire
Engine is running rough
Rough idling
Poor acceleration
High fuel consumption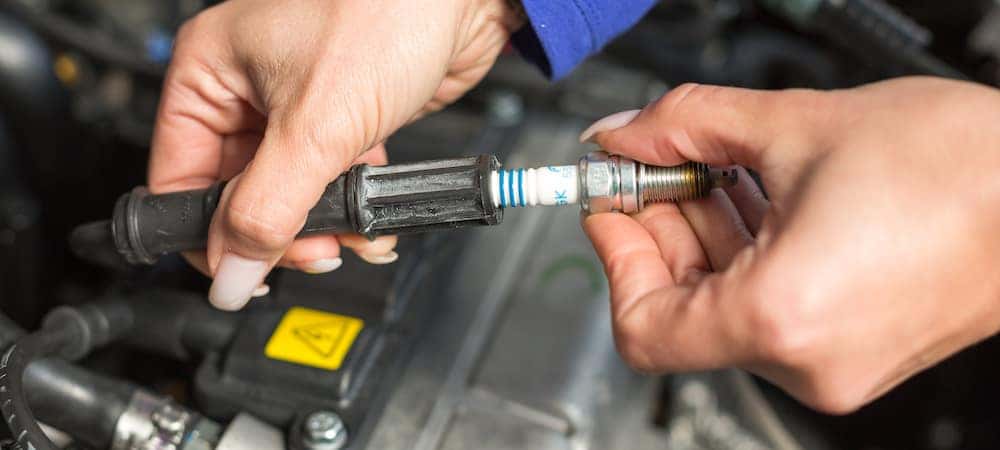 Benefits of Changing Your Spark Plugs
If you regularly replace your vehicle's spark plugs, and you keep up with this preventative maintenance schedule, you can benefit from the following:
Improved fuel economy – Having a worn out spark plug can reduce your fuel economy by as much as 30%, and replacing it can help gain that back.
Consistent combustion system – Spark plugs allow for the continuous production of combustion and leave your vehicle's system running as it should be.
Your Vehicle Starts Smoothly – Replace your spark plug, and when you turn the key in the ignition, you can feel your vehicle start effortlessly.
Less harmful emissions – Replacing your vehicle's spark plugs can not only help increase your gas mileage, but also improve your emissions.
For Your Mazda Needs, Visit Auffenberg Mazda
Now that we've answered, "When do I change spark plugs?" you can better care for your model. If you're experiencing the issues mentioned above or you need another service, bring your vehicle to our service center. Also, be sure to check out our parts and service specials to help you save on keeping your vehicle running smoothly. Our experienced technicians can get your vehicle evaluated and repaired in no time! We can also help you learn how to reset the tire pressure light, good mileage on a used car, how to check your transmission fluid, show you about the i-Activesense® system, and how to replace a dead key fob battery. Schedule service today!
More From Auffenberg Mazda
If you're in the market for a capable and powerful Mazda SUV, we have you covered at Auffenberg Mazda! We're exploring the different 2022 Mazda CX-5 configurations and standard features so you can decide which SUV trim level is better suited for taking on your Fairview drives. Be sure to explore our new inventory to…

The Mazda3 may be a compact sedan, but it's well-loved for its impressive performance, advanced technologies, and premium amenities that help make your Fairview drives enjoyable, confident, and safe. Between its chic design, smooth handling, and roomy interior, it's not surprising that it's a top choice for many drivers. View Inventory Contact Us Earn…

The new Mazda CX-9 is known for offering strong specs, efficient performance, and plenty of safety features. However, you may be even more impressed with the cabin of this premium Mazda 3-row SUV. The 2021 Mazda CX-9 interior serves up a sophisticated blend of innovative technology, deluxe finishes, and comforting amenities. What's more, the…