How to Check Car Oil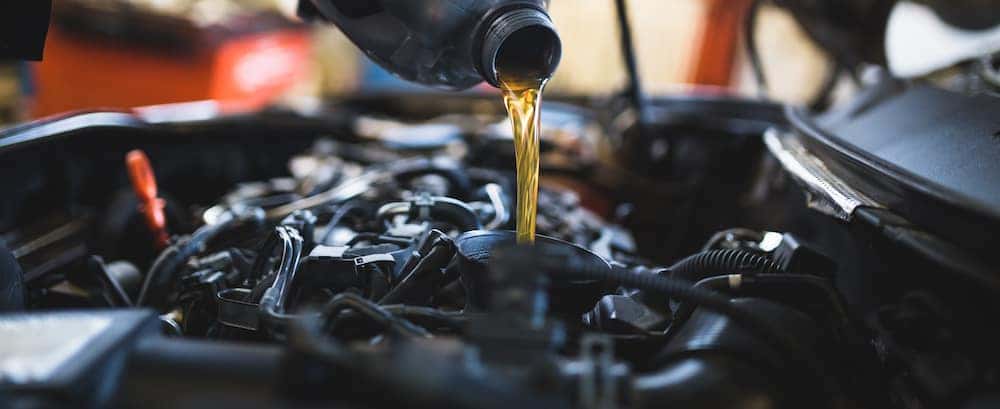 Your engine runs on gasoline, yes, but more than that, it's the motor oil that's keeping it alive —  and you should always ensure there's just the right amount and the right kind. Whether you're sticking to the streets of Fairview or heading out on a road trip far from Collinsville, you're going to want oil you can depend on, and that means knowing how to check your oil.
Learn How to Check the Oil Level in Your Car
Some newer models have an electronic oil monitor in them rather than a traditional dipstick — check your manual before checking your oil.
This is how to check the oil level in your car manually:
Park on level ground and ensure the engine is turned off and had time to cool down.
Release your hood latch, open your hood, and find the dipstick.
Remove the dipstick out of the engine and wipe it down with a rag to remove the oil.
Re-insert the dipstick all the way back in, then remove it and look at where the oil rises to on both sides of the dipstick.
Your dipstick may not be the same as your neighbors, but they always have some way of indicating the proper oil level. Some have two marks your oil should be between while others have a crosshatched area. Either way, this is a rough idea of where your oil should be at — if your oil isn't in that range, you're running low and there could be a serious problem (cars shouldn't burn or leak oil).
When replacing your oil, you need to be sure to use the right kind — check your past oil change receipts or your manual to know you're adding the right oil to your car. Or let our service center change your oil for you.
Let the Auffenberg Mazda Service Team Keep Your Car in Top Condition
Offering service specials and expert advice, our service team is always ready to help with any repair or maintenance needs — and you won't have to worry about cleaning up or disposing of your oil. Learn more about how often you should change your vehicle's oil, how often to change spark plugs, or even how to rotate your tires at home, then schedule service with us today or contact us online for further assistance.
More From Auffenberg Mazda
To keep your vehicle in top shape, it's important to have the oil changed at the recommended service intervals. It's recommended that the oil is changed every 3,000 miles, but that depends on the type of oil used. Most vehicles won't need the oil changed until 7,500 miles or even 10,000 miles. Be sure to check your…

If you want to extend the life and maximize the performance of your new Mazda vehicle, then keeping up with regular maintenance is essential. Discover how to stay on top of your Mazda maintenance today with the experts at Auffenberg Mazda. At our Mazda service center, our certified technicians can make sure your vehicle receives the…

Your engine runs on gasoline, yes, but more than that, it's the motor oil that's keeping it alive —  and you should always ensure there's just the right amount and the right kind. Whether you're sticking to the streets of Fairview or heading out on a road trip far from Collinsville, you're going to want…