How to Rotate Tires Yourself

No matter whether you choose to rotate your tires at home or you want someone at your local service center to help, having your Mazda model's tires rotated is an important maintenance step you won't want to skip. Doing this can provide better traction on Collinsville roads as well as help your tires last longer. Follow our guide on tire rotation to keep your tires rolling for as long as possible.
Why is Tire Rotation Necessary?
Rotating your vehicle's tires can help with uneven wear. Due to driving habits, all tires don't wear evenly, especially when turning. The outer edges of the front tires tend to show greater wear while the rear wheels wear more evenly. If you leave your tires in place, overtime, you'll need to replace them sooner.
How Often to Rotate Your Tires
Generally, vehicles with front and rear wheel drive need their tires rotated every 5,000-7,000 miles. All-wheel drive models require more frequent tire rotations, usually at every 3,000-5,000 miles. They need to be rotated more frequently since all tires are actively engaged, meaning faster wear.If you aren't sure about the exact intervals, as with any vehicle service, we always recommend checking your owners manual for more specific recommendations.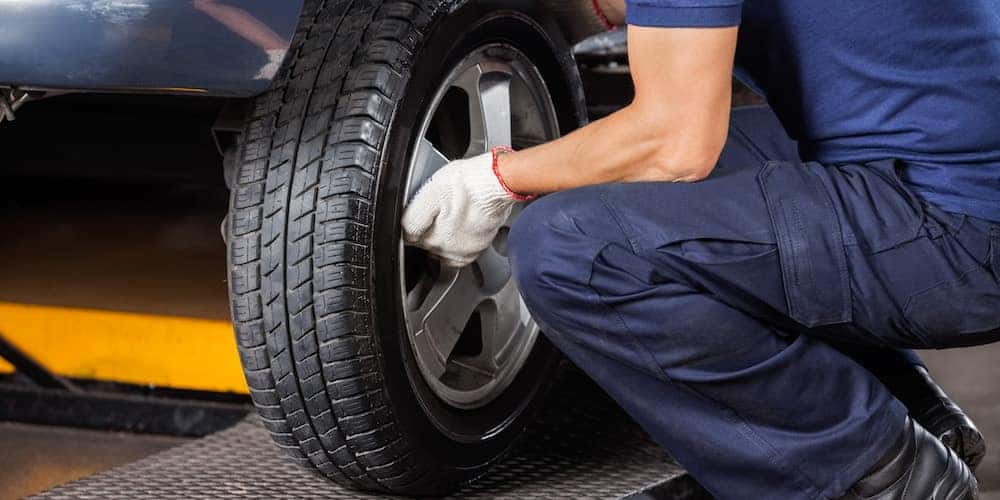 Tire Position
FWD Tires: You can move the front tires to the back of the car in the same left/right positions. When it comes time to move the rear tires to the front, you must switch the right and left tire.
RWD Tires: The opposite is true with RWD vehicles. The rear tires can be moved to the front of the car in the same left/right positions, but when you move the front tires to the rear, you need to switch the left and right tire.
Rotating Your Tires
If you want to learn how to rotate tires at home, you will need a car jack, lug nut wrench, and a set of car jacks. Once you have acquired the necessary tools, follow these five easy steps:
Engage parking brake for an extra measure of safety.
Loosen the lug nuts on all four wheels without taking them all the way off.
Pick a wheel to start with and block the tire opposite it so it doesn't roll.
Lift up the first wheel with a car jack and place a jack stand underneath it.
Repeat for all 4 wheels.
Remove the tires one by one.
Take this time to make sure your tires are filled to the optimal tire pressure. Once filled, you can rotate them according to the appropriate pattern for your type of tires. Place the tire back onto the wheel mount and screw the lug nuts on by hand as far as you can.
Lower the car from the jack stands and use the lug wrench to finish tightening the nuts. It's best to work the lug nuts diagonally from one to another in a star pattern to ensure even tightening. If the lug nuts aren't tightened evenly it can cause the brake rotor to warp.
Get Assistance With Tire Rotation at Auffenberg Mazda
Now that you know how to do a tire rotation yourself, you can rotate your model's tires at home! Not ready to rotate your tires yourself? The trained technicians at Auffenberg Mazda can help.
In addition to our excellent service, we offer a variety of service specials at our Shiloh service center for you to take advantage of, helping you save more while keeping up with your vehicles regular maintenance schedule. Contact us to find out how to reset the tire pressure light, check your transmission fluid, or replace a dead key fob battery, then schedule your service today!
More From Auffenberg Mazda
If you're in the market for a capable and powerful Mazda SUV, we have you covered at Auffenberg Mazda! We're exploring the different 2022 Mazda CX-5 configurations and standard features so you can decide which SUV trim level is better suited for taking on your Fairview drives. Be sure to explore our new inventory to…

The Mazda3 may be a compact sedan, but it's well-loved for its impressive performance, advanced technologies, and premium amenities that help make your Fairview drives enjoyable, confident, and safe. Between its chic design, smooth handling, and roomy interior, it's not surprising that it's a top choice for many drivers. View Inventory Contact Us Earn…

The new Mazda CX-9 is known for offering strong specs, efficient performance, and plenty of safety features. However, you may be even more impressed with the cabin of this premium Mazda 3-row SUV. The 2021 Mazda CX-9 interior serves up a sophisticated blend of innovative technology, deluxe finishes, and comforting amenities. What's more, the…