My Check Engine Light Went On—Now What?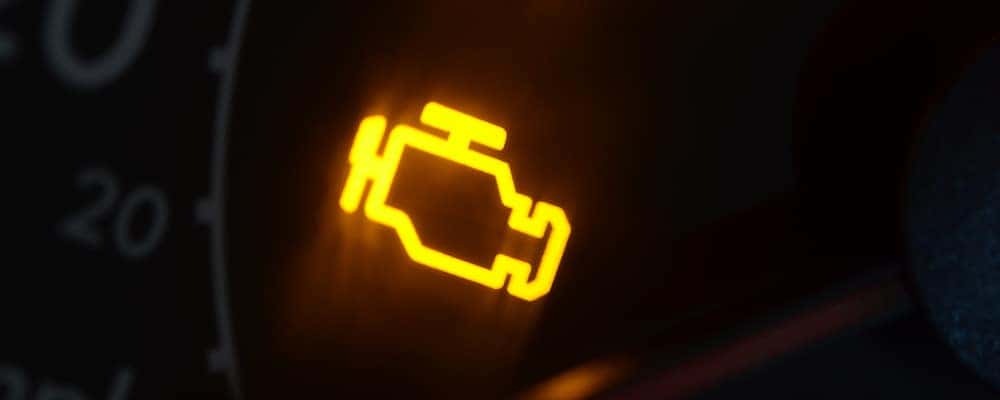 There's one warning light virtually all Collinsville drivers will panic about, but whether it's a Mazda3 check engine light or a check engine warning on another make or model, the Auffenberg Mazda service center has advice. First: don't panic. Then:
Pull over to the side of the road or find a parking lot.
Read this guide.
Visit your trusted service center as soon as possible.
Why is My Check Engine Light On?
We can't answer why a Mazda CX-5, MX-5 Miata, or Mazda3 engine light has come on without investigating your vehicle, but your check engine light could mean one or more of the following:
Reason
Potential Risks if Unserviced
Oxygen sensor replacement warning

Lower fuel economy
Spark plug and catalytic converter damage

Loose, damaged, or no gas cap
Airflow sensor replacement warning

Won't pass emission test
Worse performance and efficiency

Catalytic converter replacement warning

Damage to catalytic converter, oxygen sensors, spark plugs, etc.
Worse performance and efficiency

Spark plug replacement warning

Worse performance and efficiency
Damage to plugs, catalytic converter, oxygen sensors, ignition coils
How to Reset a Check Engine Light
Many of our Fairview drivers have asked us about a Mazda6 or Mazda3 check engine light reset, to just turn the light off, but that's not really a question we can answer for two reasons:
Resetting a check engine light won't fix the problem, and it will eventually turn back on.
Simply turning off the light means a driver won't worry as much about fixing a potentially serious problem.
If you do something that resets your check engine light, you should still bring your vehicle in to have it inspected. The delay between a check engine light reset and the light coming back on could be long enough for significant damage to be caused by whatever problem your car is having.
Why is My Check Engine Light Flashing?
Depending on your make and model, your check engine light flashing could mean a few different things. Some manufacturers' lights flash when others would stay solid. If you notice the check engine light blinking only when your vehicle starts up, this is usually normal — most of your dashboard lights should turn on and/or blink in the seconds after starting your car. A flashing check engine light could also be an intermittent problem.
In short, if your Mazda3 check engine light is flashing or blinking, you should take it as seriously as your check engine light being on.
Can I Troubleshoot My Check Engine Light?
One of the most common reasons the check engine light comes on is a failure to tighten the gas cap well enough, so that's the first thing you should check. If you're a good DIY handyperson, then you might be able to take care of some of the other fixes (hopefully with genuine parts), but otherwise it's a good idea to bring it to a pro near St. Jacob who can read the particular system code and investigate what the problem could be.
Bring Your Car in For Service Near St. Jacob
The longer your check engine light is on, the more damage the problem could do to your vehicle, and we don't want that. It your check engine light has turned on recently, bring your car in for service at Auffenberg Mazda, where we have a full team of factory-trained and certified Mazda technicians who can run diagnostics tests, handle repairs, teach you how to rotate your tires, and get your car running again in no time — you can even schedule your service appointment online or contact our service team with questions.
Auffenberg Mazda Service Specials
Recent News From Auffenberg Mazda
Interested in a new sedan that can offer you the high-end Fairview commute you've been searching for? The 2020 Mazda6 provides five trim levels jam-packed with innovative technology, comfortable and stylish materials, and advanced safety features for a comfortable, safe, and entertaining drive. Learn more about the Mazda6 configurations with Auffenberg Mazda and choose your favorite…

Mazda loyalists, our Auffenberg Mazda team, and all hopeful O'Fallon car buyers in between are excited to learn about the upcoming Mazda3 2.5 Turbo model that hits our dealership lot at the end of this year. The new engine option packs even more punch into the Mazda3 you know and love, whether you take interest in…

No matter if you've been a Mazda loyalist for years or you just joined the legacy with a new Mazda from Auffenberg Mazda, we invite you to celebrate the Mazda 100th anniversary with us. The team here at Auffenberg Mazda has proudly displayed the Mazda 100 year anniversary logo all 2020, since January 30, 2020 officially marked…