If you're unfamiliar with the tire pressure monitoring system — or TPMS — it alerts you when one or more of your tires is underinflated. But what should you do if you see the TPMS light come on while you're driving around Shiloh?
First: don't ignore your TPMS light. You should head to a service center or rest stop with an air pump as soon as possible and bring your tires back to proper PSI.
After your tires are inspected and properly inflated. Hold the TPMS reset button until the tire pressure light stops blinking, then release it. If the light is still there, restart your vehicle and wait 20 minutes for the sensor to recalibrate. Review these steps in detail below.
Resetting Your Tire Pressure Light Near Fairview
If your tire pressure light remains on after you've inflated your tires, you may have to reset it. If you're running into problems with your TPMS light on, take these steps, or bring your vehicle to Auffenberg Mazda near Fairview:
Drive at or above 50 mph for 10 minutes. This can cause your sensor to reset the next time you turn on the car and turn off the flashing tire pressure light.
With the vehicle off, turn the key to the "on" position, but don't start the car. Hold the TPMS reset button until the tire pressure light blinks three times, then release it. Start the car and wait 20 minutes for the sensor to refresh. The tire pressure monitor reset button is usually located beneath the steering wheel. If you can't find it, check the user's manual.
Inflate all tires to 3 PSI over their recommended amount, then deflate them completely. Be sure to include the spare tire, as it may have a sensor as well. Once they're all deflated, reinflate to the recommended tire pressure.
With the vehicle off, disconnect the positive battery cable with a wrench. Turn the car on and honk the horn for about three seconds. This will discharge any power still stored in the vehicle. Then reconnect the battery.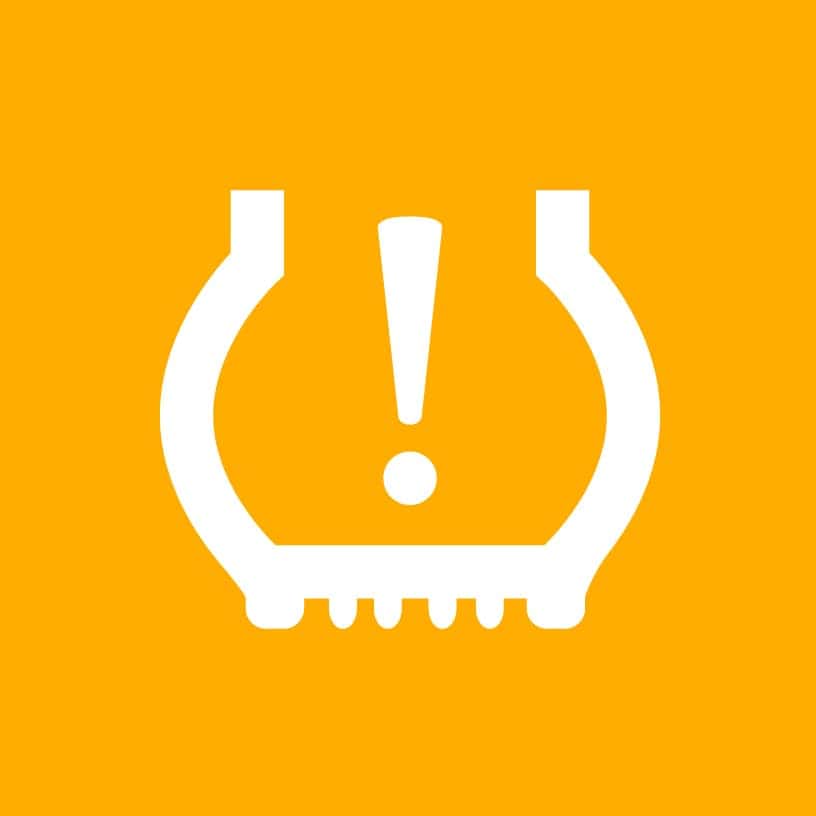 Why Collinsville Drivers Should Take the TPMS Light Seriously
Your TPMS light isn't as serious as an oil light or a check engine light — and it's something you can often fix with an air pump — but you should take it seriously. Underinflated tires can:
Decrease fuel economy
Cause your vehicle to handle unpredictably
Reduce tire lifespan
Increase the risk of a tire blowout
What Does a Flashing TPMS Light Mean?
If you see your TPMS light blinking when you turn your vehicle on, this is normal. Most of or all of your dashboard warning lights will turn on briefly as your car starts up. If the TPMS light stays on or continues blinking, you may have a more serious problem.
Tire pressure sensors often use a battery, and a blinking tire pressure light can often be a sign that the battery needs replaced. This could also be an issue with the sensors, so be sure to check the batteries and if the problem isn't solved, make an appointment with the Auffenberg Mazda service center. We can help you safely get back to your Edwardsville adventures.
Where to Get Your Tire Pressure Checked Near Shiloh?
If you would rather have a factory-trained and certified technician check your vehicle's tire pressure, we have you covered! We'll check the tire pressure to make sure each tire is at the proper tire levels, and fill them if needed. Our team knows your vehicle inside and out, so you can rest easy knowing your vehicle is in excellent hands. The Auffenberg Mazda service team is proud to serve as your go-to destination for all of your automotive and servicing needs.
What Services Are Offered at Our Edwardsville-Area Service Center?
As mentioned above, our team knows your vehicle inside and out and has the tools and knowledge to handle a long list of service tasks to ensure that your vehicle continues performing at its best. These services include:
Oil and filter changes
Tire rotation and alignment
Tire replacement and repairs
Air filter replacements
Seasonal check-ups
Fluid checks
Inspections
Air conditioner tune-ups
Wheel alignments
And more!
If you have any questions or need further assistance, don't hesitate to schedule a service appointment or give our service center a call.
If You Need Assistance, Visit Auffenberg Mazda in Shiloh!
No matter whether you need some more tips on how to turn the TPMS light off or you want some assistance, the technicians at our service center can help. Learn more about our services, service specials, learn how to replace a dead key fob battery or check your transmission fluid, and more when you make the trip from Collinsville. Contact Auffenberg Mazda, your local Mazda dealer, today with any questions.