Why Is My Car Leaking Water?

If you notice your car leaking water, it's typically not a sign of a serious issue. The car's air conditioning system creates condensation whenever activated, so it's normal to see small puddles of water near the back of the engine compartment. Water near the tailpipe is typically exhaust condensation. This will go away once your muffler warms up. However, there can be more serious issues associated with leaking fluids. Feel free to stop by the service center at Auffenberg Mazda near Fairview for a quick inspection.
The Cause of Your Car Leaking Water
Water leaking from under car? Follow these steps to find where it's coming from:
Place a sheet of paper under the leak. If the fluid is something other than water, the color will show up in the paper. If it's blue, green, or yellow, most likely your car is leaking coolant, not water.
If more than a small amount of water is coming from your exhaust, a blown gasket may be causing coolant to be burned along with the fuel. That will result in large amounts of water and white smoke coming out of the exhaust pipe.
While coolant is usually easy to spot due to its color, you can always check the level to make sure. If it's low, you'll want to bring your car to a certified service center quickly.
It's possible a leak is coming from a cracked windshield wiper fluid reservoir. That can be caused by using water in your windshield wiper fluid. The water freezes in the reservoir, expanding and causing the plastic container to crack. You can tell it's windshield wiper fluid by its light blue or light green color. Wiper fluid leaks can usually be found by the front tires.
If you notice your car leaking and the cause of leak is something other than condensation, make the trip to our Auffenberg Mazda service center near Fairview for one of our technicians to take a look.
What Fluid Is Leaking From My Car?
As mentioned above, if you place a piece of paper under your vehicle and the leaking fluid isn't clear, it isn't water. This means it could be something more serious. Follow this guide to find out what the problem is, then schedule service at Auffenberg Mazda:
Red – Transmission Fluid or Power Steering Fluid
Orange – Transmission Fluid or Radiator Coolant
Yellow – Radiator Coolant
Green – Antifreeze from Water Pump, Hoses, or Radiator
Blue – Windshield Wiper Fluid
Dark Brown – Brake Fluid or Older Engine Oil
Light Brown – Newer Engine Oil or Gear Lubricant
Pink – Power Steering Fluid or Transmission Fluid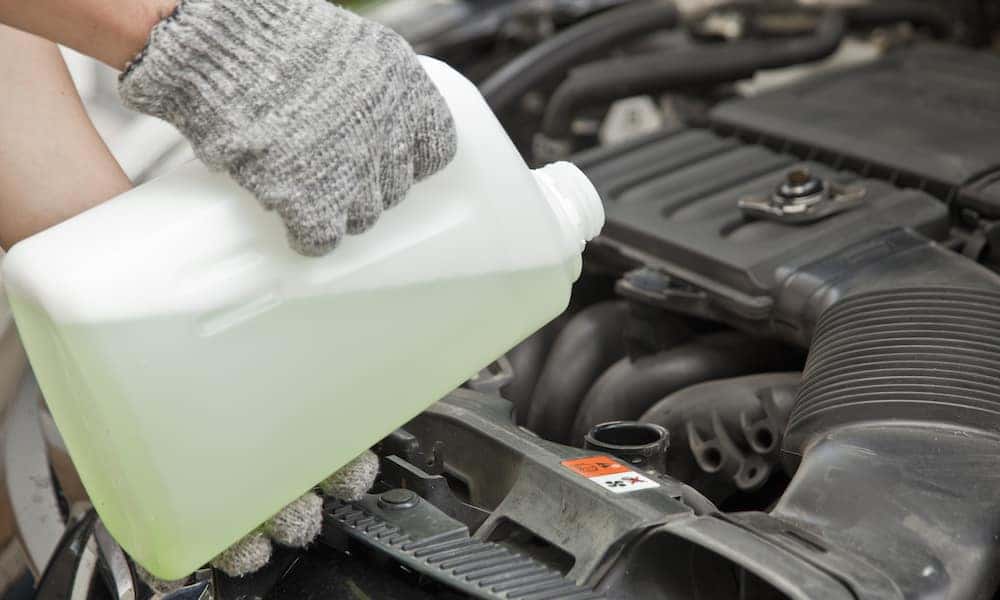 Can You Drive a Car with a Bad Water Pump?
If it is water leaking from your car, there could be a range of causes, but the water pump in your car is one of the most common. If anything is wrong with your vehicle, driving anywhere other than a service center is often a bad idea. That's not to say that the car won't move, but if your car is leaking water from the water pump, its ability to successfully cool the engine reduces and you run the risk of overheating your engine.
Let Auffenberg Mazda Handle Your Car's Leaks
When the time comes for your next vehicle maintenance appointment, or if you need a more serious repair in the meantime, schedule an appointment at Auffenberg Mazda. We offer service specials to help you save more on the services your vehicle needs. Contact us today to learn more about our services, tips and tricks such as how to remove a car battery, or if you need help with the i-Activsense® system!
More From Auffenberg Mazda
If you're in the market for a capable and powerful Mazda SUV, we have you covered at Auffenberg Mazda! We're exploring the different 2022 Mazda CX-5 configurations and standard features so you can decide which SUV trim level is better suited for taking on your Fairview drives. Be sure to explore our new inventory to…

The Mazda3 may be a compact sedan, but it's well-loved for its impressive performance, advanced technologies, and premium amenities that help make your Fairview drives enjoyable, confident, and safe. Between its chic design, smooth handling, and roomy interior, it's not surprising that it's a top choice for many drivers. View Inventory Contact Us Earn…

The new Mazda CX-9 is known for offering strong specs, efficient performance, and plenty of safety features. However, you may be even more impressed with the cabin of this premium Mazda 3-row SUV. The 2021 Mazda CX-9 interior serves up a sophisticated blend of innovative technology, deluxe finishes, and comforting amenities. What's more, the…