How to Remove a Car Battery

---
Should you ever need to inspect your car battery or fully replace it, you'll want to be familiar with removing car battery housing and components! In the following guide, our service center experts have outlined how to remove a car battery so whether you're addressing your own battery issues or helping out a Shiloh neighbor, you can be prepared to accomplish the task. Read on below to tips and tricks about removing car battery parts.
Prepare to Remove Car Battery
Batteries are packed with a current to start your Mazda, keep it running throughout Fairview, and power your entire electrical system. This amount of stored power is enough to deliver a serious shock, so proper safety precautions are in order: always turn off the car and wear insulated gloves and safety glasses when removing car battery parts. Here are other important safety tips:
Prevent the battery cables from touching— if they do, they will spark. Zip ties or other restraints should work just fine to safely hold them apart and out of the way.
Once the cables are restrained, put a cloth over the positive end of the cable to further prevent metal-to-metal contact.
Remove any jewelry. Again, these measures seek to avoid metal touching metal.
Ensure you are removing car battery components in a well-ventilated area.
Removing Car Battery
Now that you've taken the proper safety measures, let's learn how to remove a car battery. Follow the steps below:
Locate the negative terminal, denoted by a black cover and/or a negative icon. Remove the plastic cover if necessary.
Secure a solid hold on of the negative bolt head with a wrench or pliers. Hold it steady.
Remove the nut with another wrench or pliers, then pull off the negative cable completely and secure it away from the battery as you did in the earlier steps.
Repeat the above step for the positive cable, taking care that the two battery cables do not touch
Removing car battery brackets may also be in order if your battery is secured by one. Simply unscrew the bolts that hold it.
Lift out the battery carefully, prepared to use some muscle as it may weigh up to 40 pounds!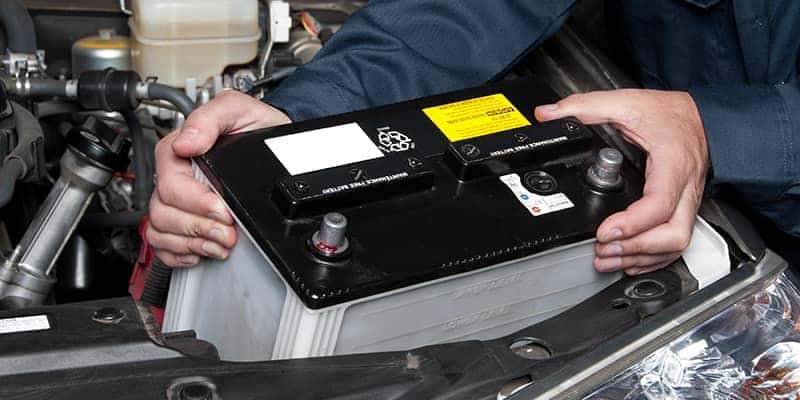 Schedule Car Battery Service at Auffenberg Mazda
A healthy car battery is vital to your safety on Collinsville and Edwardsville roads, as well as your vehicle's optimal running condition. Should you suspect something is up with your battery, our Auffenberg Mazda service department is always here to help. Schedule your service appointment today and we'll make removing car battery or other services simple for you. Also, be sure to check out our guide on what you should have in your Winter emergency car kit or learn about the tire pressure guide.
More From Auffenberg Mazda
If you're in the market for a capable and powerful Mazda SUV, we have you covered at Auffenberg Mazda! We're exploring the different 2022 Mazda CX-5 configurations and standard features so you can decide which SUV trim level is better suited for taking on your Fairview drives. Be sure to explore our new inventory to…

The Mazda3 may be a compact sedan, but it's well-loved for its impressive performance, advanced technologies, and premium amenities that help make your Fairview drives enjoyable, confident, and safe. Between its chic design, smooth handling, and roomy interior, it's not surprising that it's a top choice for many drivers. View Inventory Contact Us Earn…

The new Mazda CX-9 is known for offering strong specs, efficient performance, and plenty of safety features. However, you may be even more impressed with the cabin of this premium Mazda 3-row SUV. The 2021 Mazda CX-9 interior serves up a sophisticated blend of innovative technology, deluxe finishes, and comforting amenities. What's more, the…