How Often Should You Change Your Oil?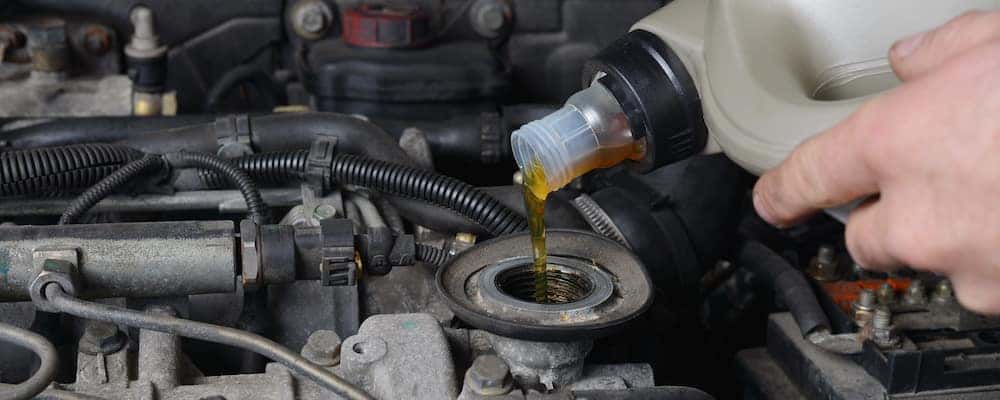 To keep your vehicle in top shape, it's important to have the oil changed at the recommended service intervals. It's recommended that the oil is changed every 3,000 miles, but that depends on the type of oil used. Most vehicles won't need the oil changed until 7,500 miles or even 10,000 miles. Be sure to check your owner's manual for the exact intervals for your Mazda or contact us at Auffenberg Mazda near Fairview to learn more.
Recommended Oil Change Frequency
Though most vehicles fall between 7,000 and 10,000 miles, some vehicles may need to be serviced sooner especially if the following circumstances apply to you. If that's the case, be sure to bring your vehicle into the Auffenberg Mazda Service Center as needed:
If you frequently go off-roading
If you use your model for commercial use
If you race
If you use your vehicle to tow heavy loads often
Oil Change Tips
Since oil breaks down over time, despite how often you drive, it's recommended that you have the oil changed at least twice a year.
When getting your vehicle's oil changed, you should have the oil filter replaced as well. If you'd rather change it yourself, you can find a good deal at our parts department.
Not sure whether to use synthetic vs. conventional oil? Check the owner's manual to see which your vehicle requires. While synthetic oil costs more, it tends to last longer and is sometimes required.
How Often Should I Check My Oil Level?
Checking the oil levels once a month can help catch leaks and prevent damaging buildup. Look for changes in color and consistency as well as for metal particles that might have made their way into the oil. This can be sign of a more serious issue. If you notice any of the above or it's simply time to have the oil replaced, contact us at Auffenberg Mazda to schedule a service appointment.
Have Your Vehicle's Oil Changed at Auffenberg Mazda
At Auffenberg Mazda, you'll get the quality service you need from highly-trained technicians. You'll also have access to service coupons to help you save on needed repairs and recommended maintenance. Contact us to learn about our services, find out how often to change spark plugs, learn how to rotate your tires, who makes Mazda, or to schedule your appointment today.
Service Specials at Auffenberg Mazda
More Service Tips from Auffenberg Mazda
To keep your vehicle in top shape, it's important to have the oil changed at the recommended service intervals. It's recommended that the oil is changed every 3,000 miles, but that depends on the type of oil used. Most vehicles won't need the oil changed until 7,500 miles or even 10,000 miles. Be sure to check your…

If you want to extend the life and maximize the performance of your new Mazda vehicle, then keeping up with regular maintenance is essential. Discover how to stay on top of your Mazda maintenance today with the experts at Auffenberg Mazda. At our Mazda service center, our certified technicians can make sure your vehicle receives the…

Your engine runs on gasoline, yes, but more than that, it's the motor oil that's keeping it alive —  and you should always ensure there's just the right amount and the right kind. Whether you're sticking to the streets of Fairview or heading out on a road trip far from Collinsville, you're going to want…